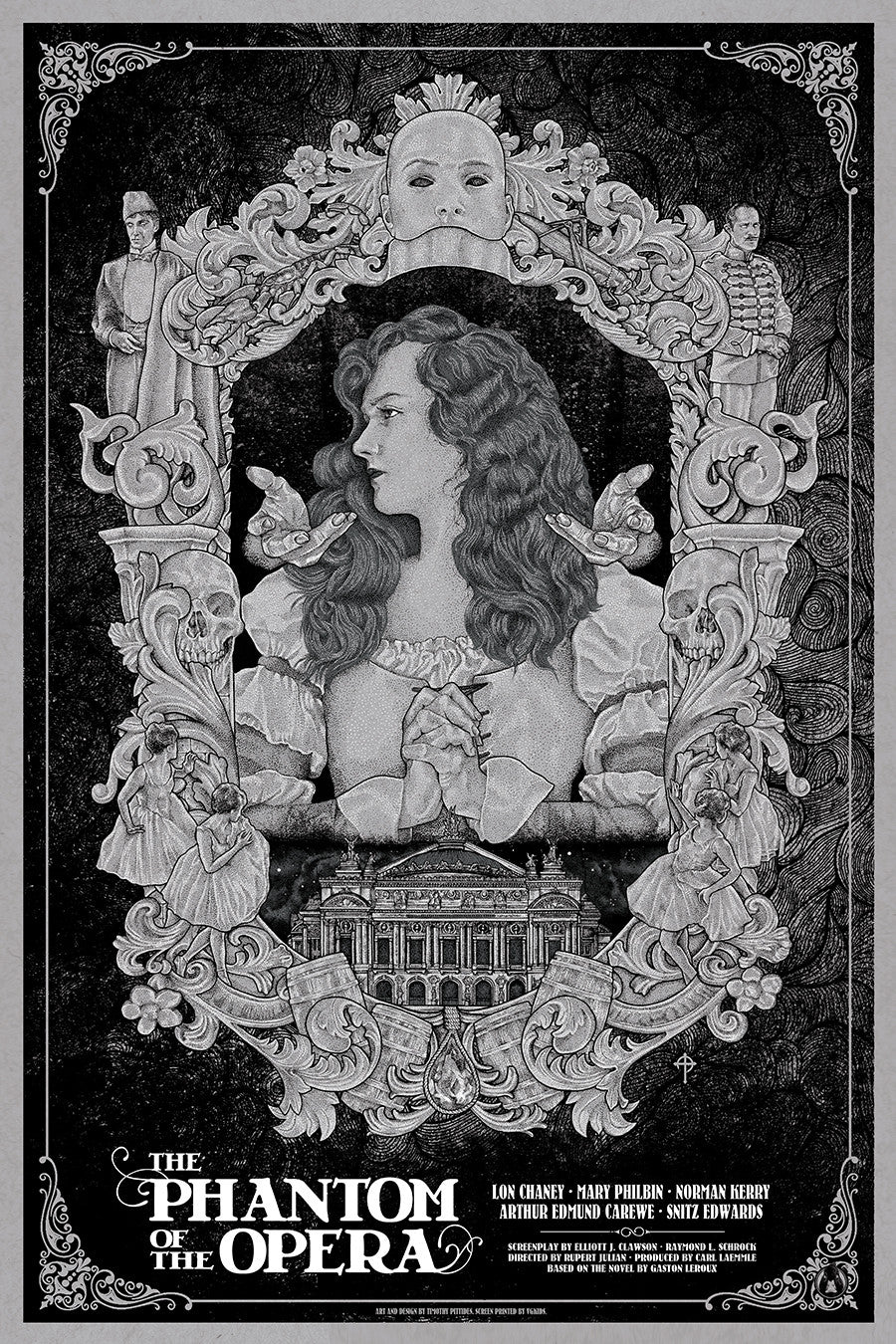 Mad Duck Posters is back this week with a brand new poster for the timeless film "The Phantom Of The Opera" by talented artist Timothy Pittides!
"The Phantom Of The Opera" is a classic story that is known to all, and there is no better representation of the story than the 1925 version of the movie starring Lon Chaney!
The artist had the following to say about the movie and art:
"I have been waiting to do a poster for The Phantom of the Opera for over a year. It is my favorite film from the silent film era and my sketchbook has been busy with concepts relating to the film. I wanted to do something different than the other posters for the film that artists have been releasing. The first order of business was NOT to include the Phantom as the Red Death. That ship has sailed. Second, I wanted a design to fit alongside my poster for my second favorite silent film, Nosferatu. Third, I didnt want to focus on Erik himself. I believe the story didnt focus on him as much as it did Christine. Christine was the key to everything, his love, his rage, and his eventually downfall. And on her side, she had to endure so much and did what she had to do for love. I took the mirror as central theme and wanted to portray a feeling of dread, beauty and sadness. I hope this comes across. "
The poster will be available in both a standard and variant edition.  
Standard Edition: 3 color screenprint, printed on Packing Chip Kraft-Tone. Printed by VGKIDS. Numbered edition of 125: $40.00
Metallic Variant Edition: 3 color screenprint featuring Metallic Nickel ink. Printed on Reich Shimmer Metallic Silver paper. Numbered edition of 45: $50.00
Both posters will drop at 12pm Eastern time this Wednesday, January 25th.