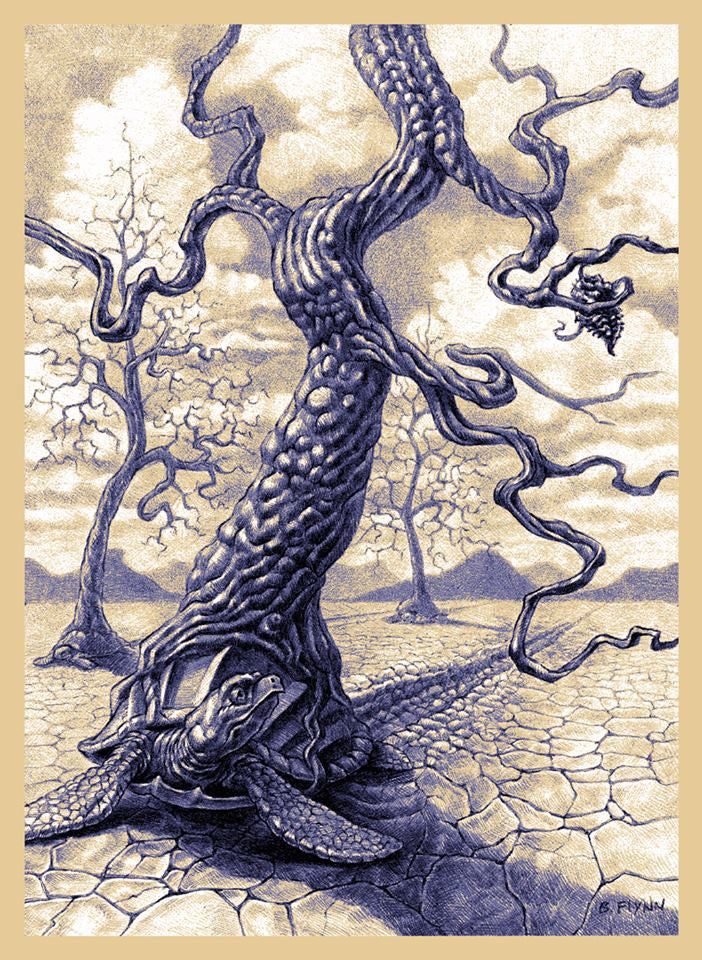 Hey everyone, 
We are back this week with a brand new art screen print release from the talented Brendon Flynn! For those of you that are unfamiliar with Brendon, he is well known for his mythology and monster inspired art as well as many album covers for Hard Rock/Heavy Metal bands. Brendon himself plays guitar for the heavy metal band Freya!

We will be selling two versions of a new print called "The Great Migration". Both prints measure 14.5X20 and are 4 colors on colored paper (grey and tan) with two metallic inks!. Both editions are limited to runs of 40 per color and are priced at just $40!

Brendon had the following to say about this release:

The Great Migration

"A withered trunk of an ancient tree grows from the back of a sea turtle. The roots twist around the gnarled surface of her ebony shell. She slowly raises her head and sets her gaze on the last brittle seed, whose percussive rattle marks the rhythm of each determined step. A parched land expands from the shores of the sea and life struggles as the desert consumes the horizon. The great migration gets longer every year to find green, fertile land.

This is the first image in a series called This Was an Ocean. The title was inspired by the ancient ocean floor that makes up the landscape of my hometown of Syracuse. My goal was to create images that looked like a scientific field guide to an alternate future in which evolution took a different path. I was inspired to combine the ideas and findings of Charles Darwin with the story Journey to the Center of The Earth, by Jules Verne."

"The Great Migration" goes on sale this Wednesday, April 20th at noon Eastern time!